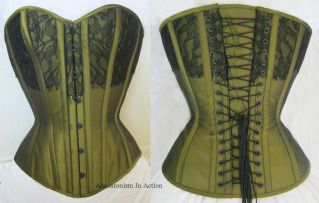 Etsy listing:
https://www.etsy.com/listing/110861425/green-silk-taffeta-sweetheart-victorian
$415.00 USD -Black+yellow (Green) shot silk taffeta sweetheart corset with lace. Has two layers coutil, mixture of flat and spiral steels, waist tape and underbusk for support. Black lacing, grommets, top-stitching and busk complete the look. Has front and back floating modesty panels. The lace was mirrored at front and back, and the scallops were matched along the seams for a continuous flow around the body. The leaves pattern compliments the green coloring for a subtle design feature.
-Six clip rushed garter belt made from black and yellow silk taffeta. Belt has boning front and back for support. Hook and eye closure. The interior of the straps is elastic, making the length more adaptable.
I am selling this set at this discounted price because it is a sample and has been used in photo-shoots. Normally I could charge $450 for the corset, and $115 for the garter belt ($565 total) The set was worn by the model pictured above, and two of my fit models, 1-3 hours total.
Measurements of Corset:
Bust: 32"
Underbust: 24"
Recommended B or C cup
Waist: 20"
Hip: 30"
CF length: 14"
Above waist- 7.5"
Bellow waist- 6.5"
CB length: 14"
Side- 12
- As is usual with corsets, to determined your size, go up approximately 4" at the waist. This corset is recommended for a 23-25" waist depending on how much you are comfortable lacing down. For the bust and hip measurements go up 1", because this corset is ready made, I intentionally left a little gap to make the fit more adjustable.
The garter belt is made to fit the same measurements as the corset (waist/hip) and has an adjustable back panel. Please note for the photo the belt is shown overlapping about 2" more than how it is meant to be worn. When closed the back has the same graceful arc as the front.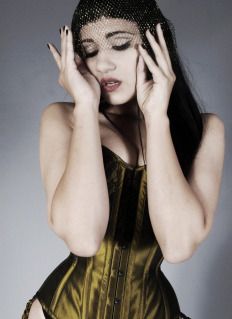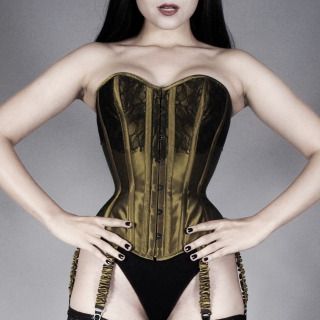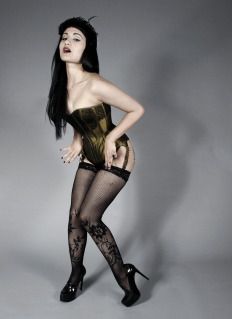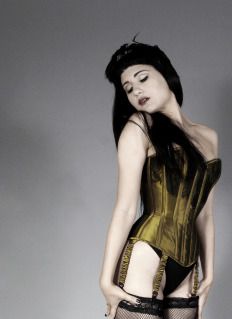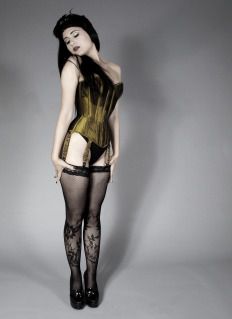 Photo Credits:
Model: Rivi Madison
https://www.facebook.com/RiviAlt
Wardrobe: Anachronism In Action
https://www.facebook.com/Anachronism.In.Action
Photographer: Marisa Pike Photography
https://www.facebook.com/MarisaPikePhotography
MUA/Hair: Giovanna Paramo Lieb Makeup Design
https://www.facebook.com/GiovannaParamoLiebMakeupDesign
Feel free to message me here on LJ, or on easy with any questions.
Thanks for looking and please visit my Facebook page to see more of my work:
https://www.facebook.com/Anachronism.In.Action?ref=hl