Does any want to buy this 22 waist Overbust Red Sequin with gold heart applique caberat/burlesque style corset? Here's the deal. I have tried to sell this cute corset for the last SIX MONTHS on ebay. At this point my ebay fees I have paid on the corset are more then the price I was selling it for. I've reduced the price MANY times and still no buyers. It's taking up space in our sewing studio at this point so it really needs to go. I am listening to ANY offers (seriously you won't insult me no matter how low you offer). It was originally $150.00, Last auction had it priced between $40-$50 and still no takers. I just need this corset out of my way. Paypal payments only please. Email batty@io.com to claim it.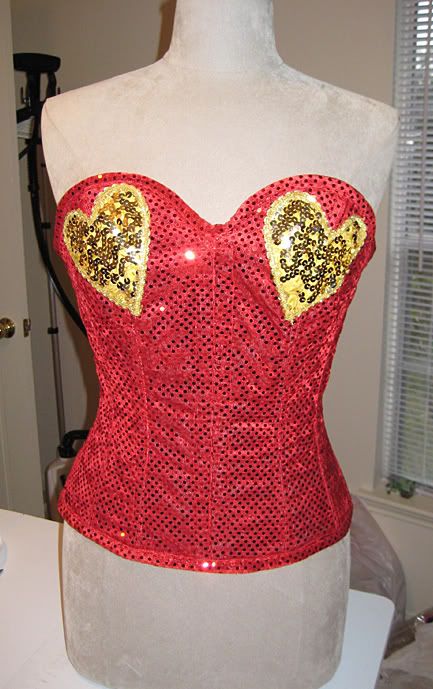 </p>

Azrael's Accomplice (my company) overbust Red Sequined and heart appliqued Burlesque or Cabaret corset.

Size 22 waist. A few of the gold sequins came off, could be replaced, and not very noticable. Worn once for a fashion show. Will fit busts of 34-36 B-D cups, waists of 24-27, hips of 34-37.
Low asking price (due to missing sequins). Fully steel boned, lined, interfaced, bi-directional back lacing. Will ship worldwide. S/h in the US is $7.00, Airmail International is $12.00.